Intercom Systems
Contact us today for a free security needs assessment with one of our expert technicians.
Always Know Who's at the Door
An intercom system is an excellent way for homeowners or business owners to know who is at the door, and to enable convenient, two-way room-to-room communication. Installing a home intercom system provides enhanced security by enabling homeowners to screen visitors, and also allows family members to conveniently communicate from anywhere throughout their home. For small or mid-sized businesses, commercial intercom systems are an excellent security solution to facilitate communication and help protect employees, customers and vendors, and deter theft and other crimes.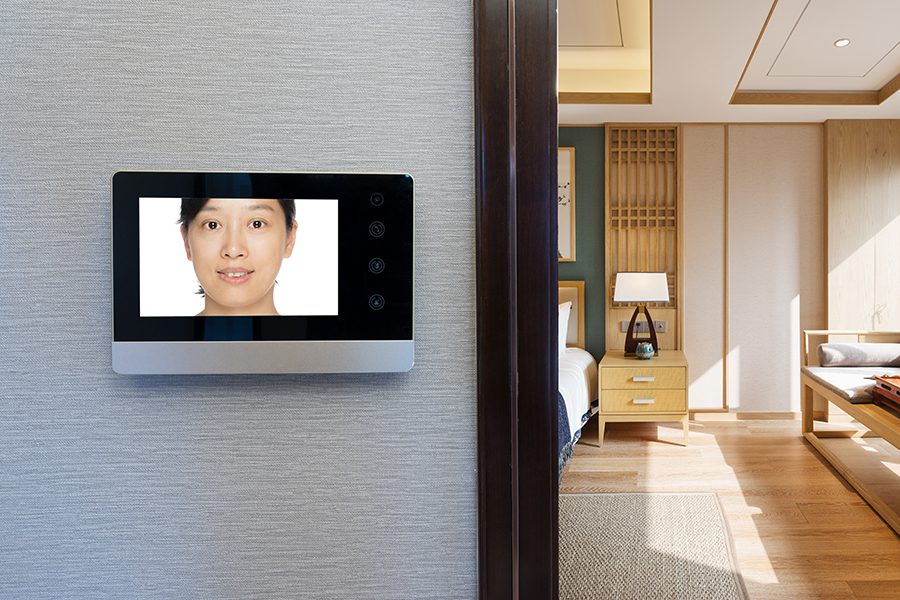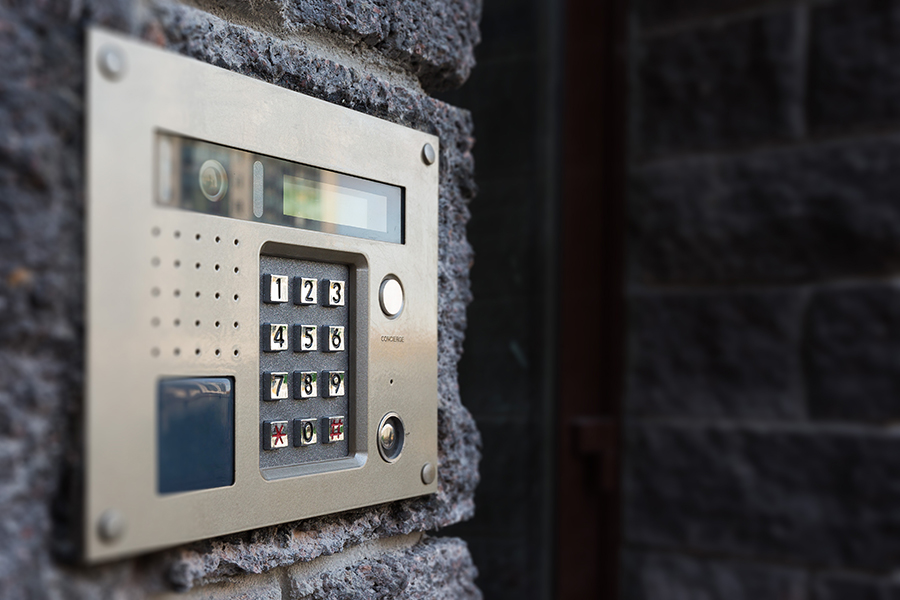 Types of Intercom Systems
Modern intercom systems go far beyond simple two-way communication. Today's intercom technology allows users to listen to their favorite music, see who is at the door with their smartphone, speak with visitors without opening the door, call their kids for dinner, monitor their baby and more. Options for intercom systems include:
Video Intercom Systems
Hardwired or Wireless (IP) Intercom Systems
Telephone Entry Systems
Single-Button or Multi-Button Buzzer Systems
Room-to-Room Intercoms
Office Intercoms
Broadcast Intercoms
Intercom System Benefits
Modern intercom systems leverage the latest telecommunications technology to provide the following benefits to homeowners and businesses:
Easy Two-Way Communication– Intercom systems provide convenient communication both with visitors at the door and from room to room. There's no need to leave the room you're in or stop what you're doing to communicate with someone at the door – communication is at the touch of a button.
Enhanced Home Security– An intercom system enables users to see who is at the door, without having to jeopardize their personal safety by opening the door. Many intercom systems are capable of taking a snapshot or recording video of anyone who rings the doorbell.
Increased Business Productivity– Intercom systems allow business owners to quickly locate and speak with employees, whether they are in another office or another building across the office campus. Many commercial intercom systems also offer broadcast capabilities to reach all company employees via loudspeaker.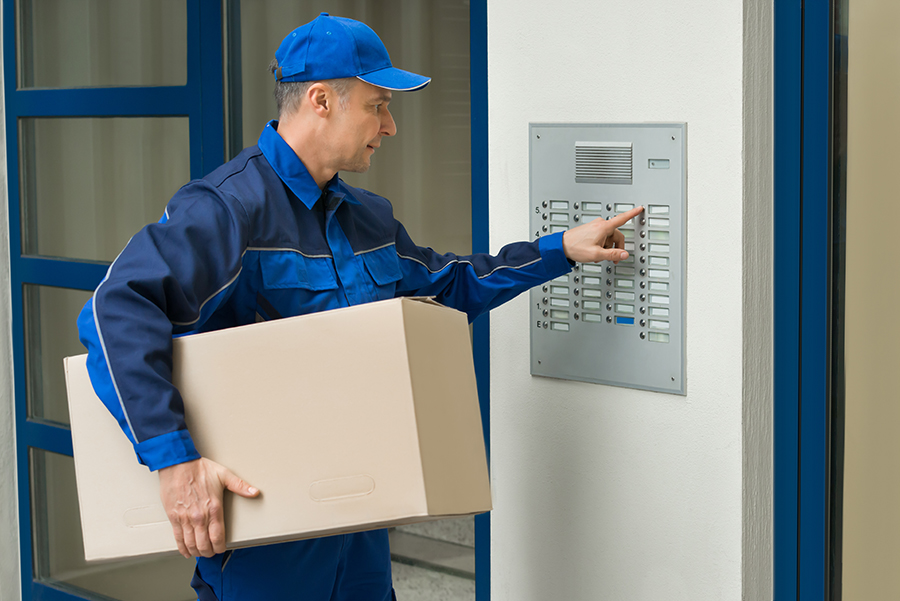 Secure Your Home or Business with Precision Security Specialist
---
Learn how we can customize an intercom solution for your Uniontown, OH home or business. Contact us today for a no-obligation security assessment.
Voice Intercom Systems
Intercom systems can help you and your family to communicate more effectively around your home. If you need something quickly, having access to an intercom can be more efficient than texting multiple family members on a smartphone. Businesses can enjoy the same convenience, as a voice intercom system allows owners and managers to page employees no matter where they are located in the office.
Video Intercom Systems
No matter where you are in your home or business, video intercoms can make your life much more convenient. New parents can monitor their sleeping infant from another room. Business owners can keep an eye on the' front desk late at night when they are in the back working on payroll. Both are possible with video intercom solutions from Precision Security Specialist.
Wireless Intercom Systems
It's now easier than ever for you to access your intercom system remotely. This is beneficial for both homeowners and business owners alike. Imagine you are a homeowner and you get an alert on your phone that there is someone on your front porch. You could speak with them immediately, no matter where you are, to find out why they are at your home – and give the impression that you are at home. The same goes for business owners, who may receive an alert that a motion sensor was triggered at their business after hours. Being able to log into your intercom could help scare off a potential intruder, before they have the opportunity to vandalize or steal from your business.
Our Process
At Precision Security Specialist, we offer intercom system installation for homeowners and business owners in Uniontown, OH. We manage your home or business intercom systems installation from beginning to end. We offer everything from site assessment to installation, to documentation and archiving. Our trained intercom system installation experts can help you determine the best video, voice, and wireless intercom systems to meet your home or business security needs.
Site Assessment
When it comes to determining the best intercom solutions for home or business owners in Uniontown, OH, the site assessment is one of the most critical parts. Unfortunately, too many companies in the Uniontown, OH area offer "one size fits all" intercom solutions without taking into account the home or business in which they'd be installing the intercom.
At Precision Security Specialist, we value building relationships with our clients, which is why we offer custom intercom design solutions. We feel that the only way to work is to gain a thorough understanding of you and your home or business. We'll start by evaluating the site where you like to have the intercom installed. Not only will we walk the job site, but we'll also take a look at the floor plans and blueprints to garner a better understanding of feasibility and any customization needs.
We'll also work to gain a solid understanding of your goals and motivations. By knowing your goals for installing an intercom, we'll be better able to craft a solution designed to fit your lifestyle. Additionally, we'll take the time to understand your budget. This will allow us to come up with an effective and affordable intercom design. We take the time to complete a site assessment to ensure that you're beyond satisfied when the project is complete.
Planning
After completing the initial site assessment and survey, our trained intercom technicians will deliver a comprehensive installation plan. We will provide you with our ideas for the project, considering everything from your home or business' layout to your budget. Because we value our relationships with Uniontown, OH residents and business owners, we can assure you that these plans will have been designed with thoughtful consideration.
We'll review every step of the installation process with you. Included in our plan will be the hardware we recommend. We will also list other potential alternatives, allowing you to select your desired options.
We want nothing more than to provide the utmost transparency to our customers. We can assure you that you will be involved in every step of the planning process. We would rather take the time to ensure that we get the planning process right than to complete an installation, only to find out that you are not satisfied.
Installation
Our intercom technicians understand that your time is valuable, which is why they will work quickly to install your new system. For those installing intercoms in a home, we realize that you do not want technicians disrupting your private space longer than they have to be, no matter how friendly and professional we may be! And for those installing intercoms in a business, we understand that construction can be unsightly and could potentially drive away customers.
((company's)) intercom technicians will work with you to select the best time for installation, even if it is not during regular business hours. The length of the installation depends on the size and scope of the project, but it can often be completed in less than a day. Before installation begins, our technicians will communicate with you a reasonable expectation of how long the installation process should take.
System Configuration
Even though the installation process may be complete, we do not yet consider our job to be done. Our technicians will configure the entire system so that it integrates seamlessly into your existing infrastructure. Our security experts will also set all of your local wire and electric outlets after the fact so that other systems operate as they did before your installation.
More than anything, we want to ensure that you're comfortable with your new intercom system before we leave. That's why we'll review your existing security and home automation technology to confirm that everything still works the way it was initially programmed. If you wish to incorporate home automation technology into your intercom system, we will also ensure that this system operates the way you had anticipated. Our technicians will not leave until you confirm that you are satisfied with the installation and understand how your new intercom system works.
Documentation and Archiving
Before leaving, we'll also provide you with a diagram of your new system and intercom stations, which will serve as a detailed reference if you have any questions after the fact. We'll also provide you with product documentation for everything we installed and an archive of the system settings. If you ever need to reset the system, referencing this archive can help you return your system to its initial settings.
In some cases, you could use the documentation to help reduce your insurance policy premiums. Some of our clients in the Uniontown, OH area have been able to prove to their insurance company that their intercom system was used to help make their workplace safer. By doing so and providing the proper documentation, their insurance company considered them to be a less risky place of business was able to reduce their insurance premiums. You never know when this documentation may come in handy for your home or business.
Maintenance and Support
At Precision Security Specialist, we understand that you may not be an expert when it comes to your intercom system, which is why we offer expert maintenance and support. As our customer, you have access to ongoing maintenance and support for the life of your intercom system. No matter if you have a simple question that you just cannot seem to figure out, or have a large scale problem that requires our immediate attention, you are welcome to contact our professional customer service team at any time. They will work to troubleshoot the issue with you to see if we can't solve the problem over the phone. If we can't, we'll dispatch our team of trained intercom technicians to your home so that they can correct the problem. This kind of customer service is what helps set us apart from other companies in the Uniontown, OH area. Knowing that you have a resource to turn to at any time can give you additional peace of mind after the installation of your new intercom system.